TOWER BLOCK DIALOGUES

[Textual essay below]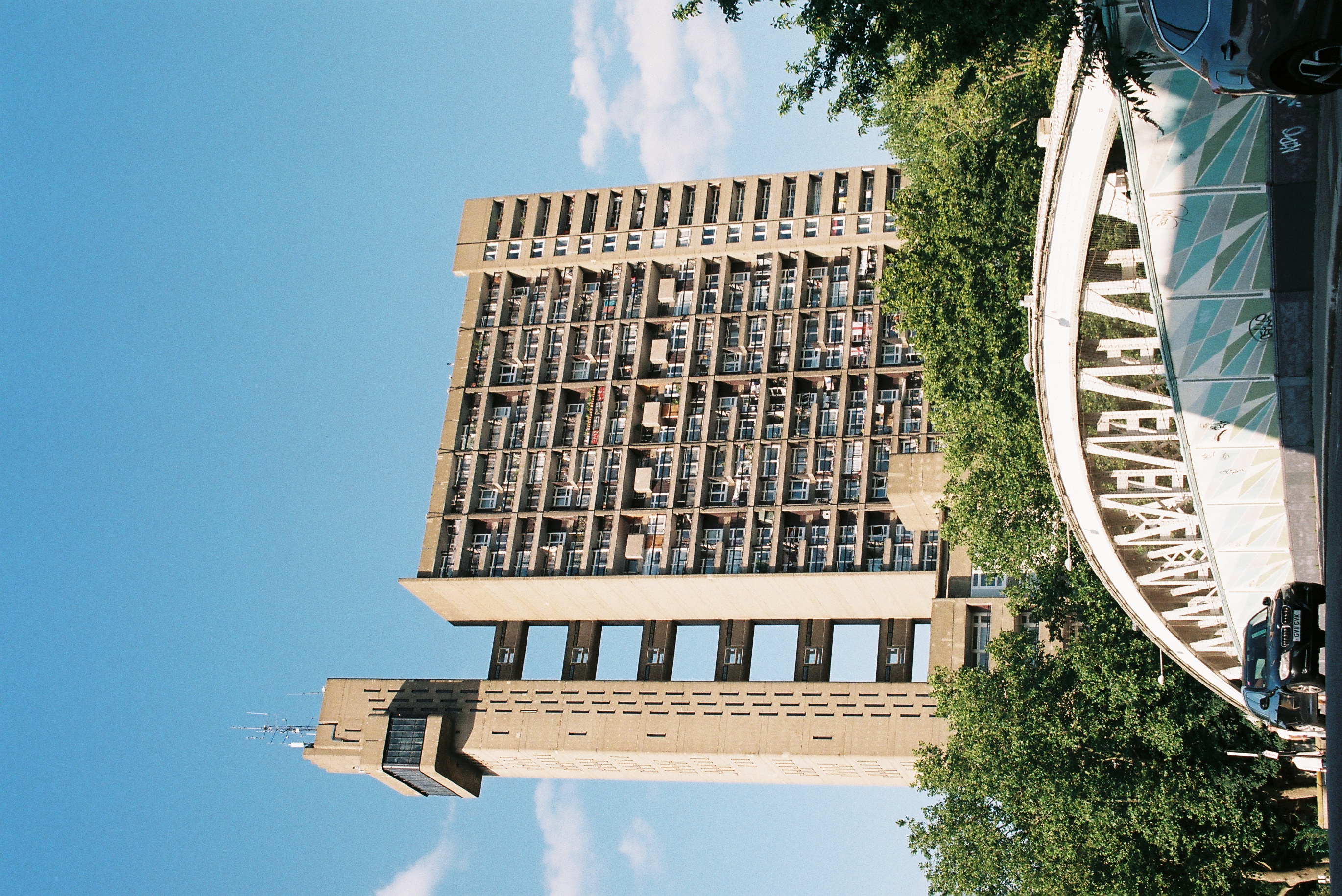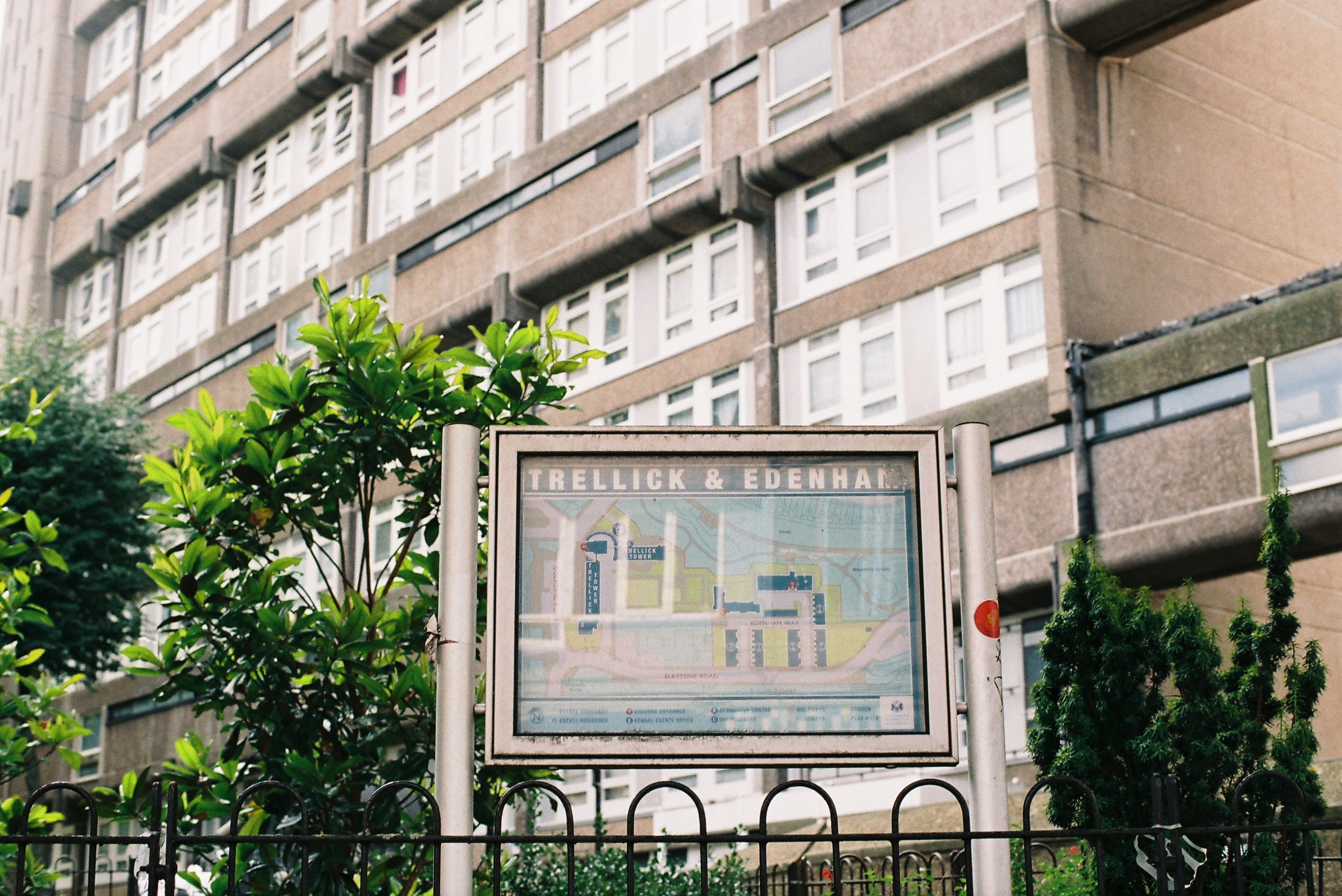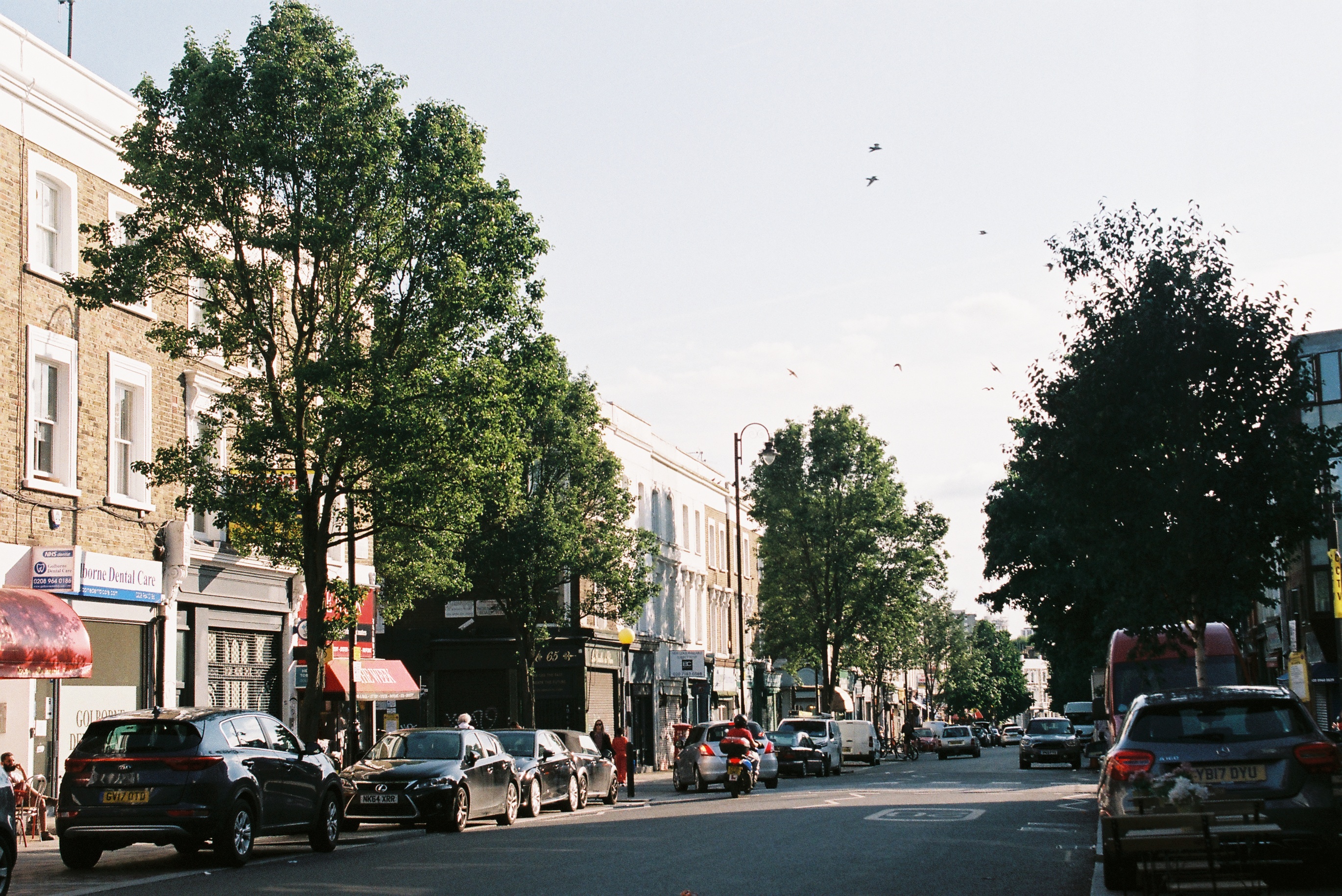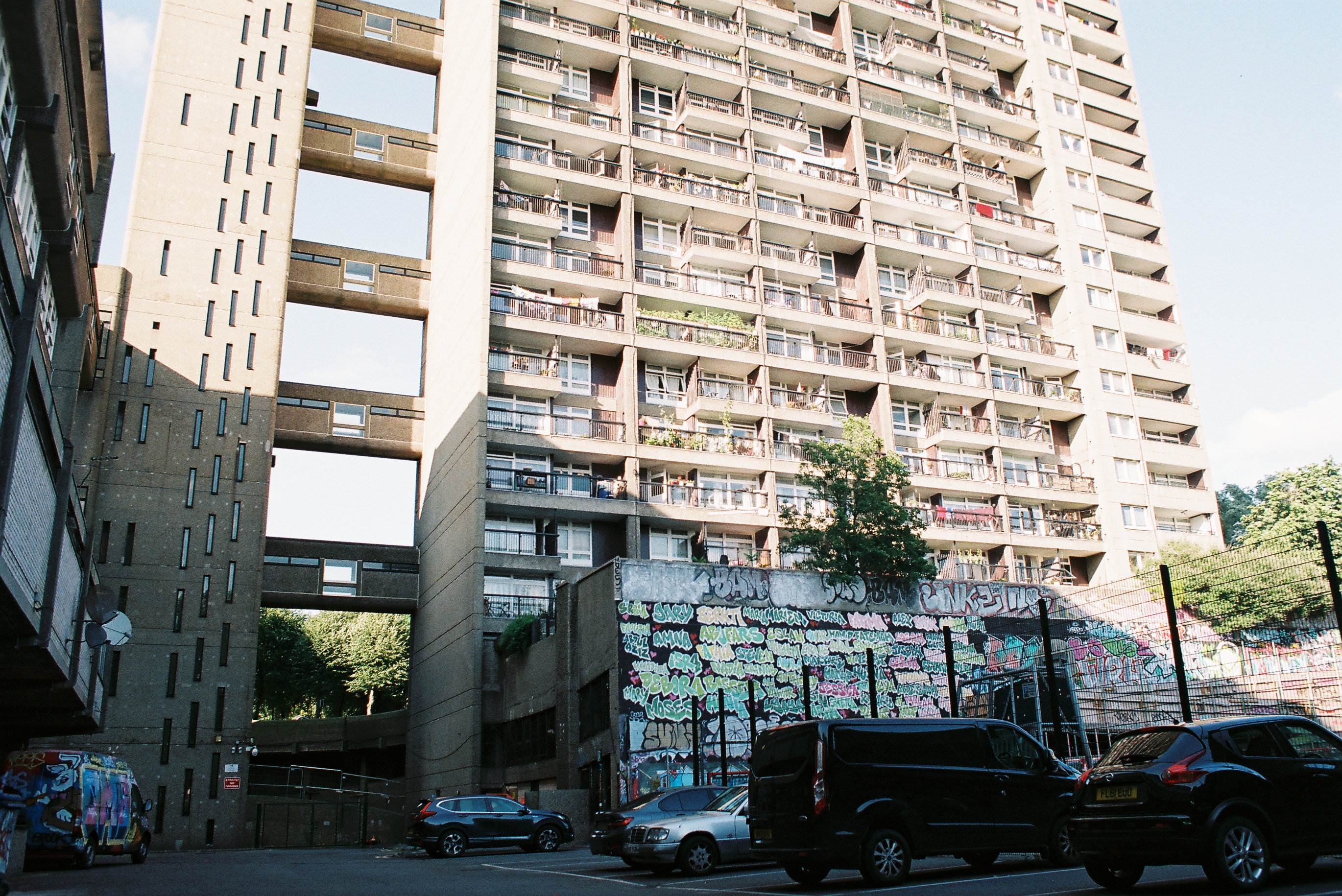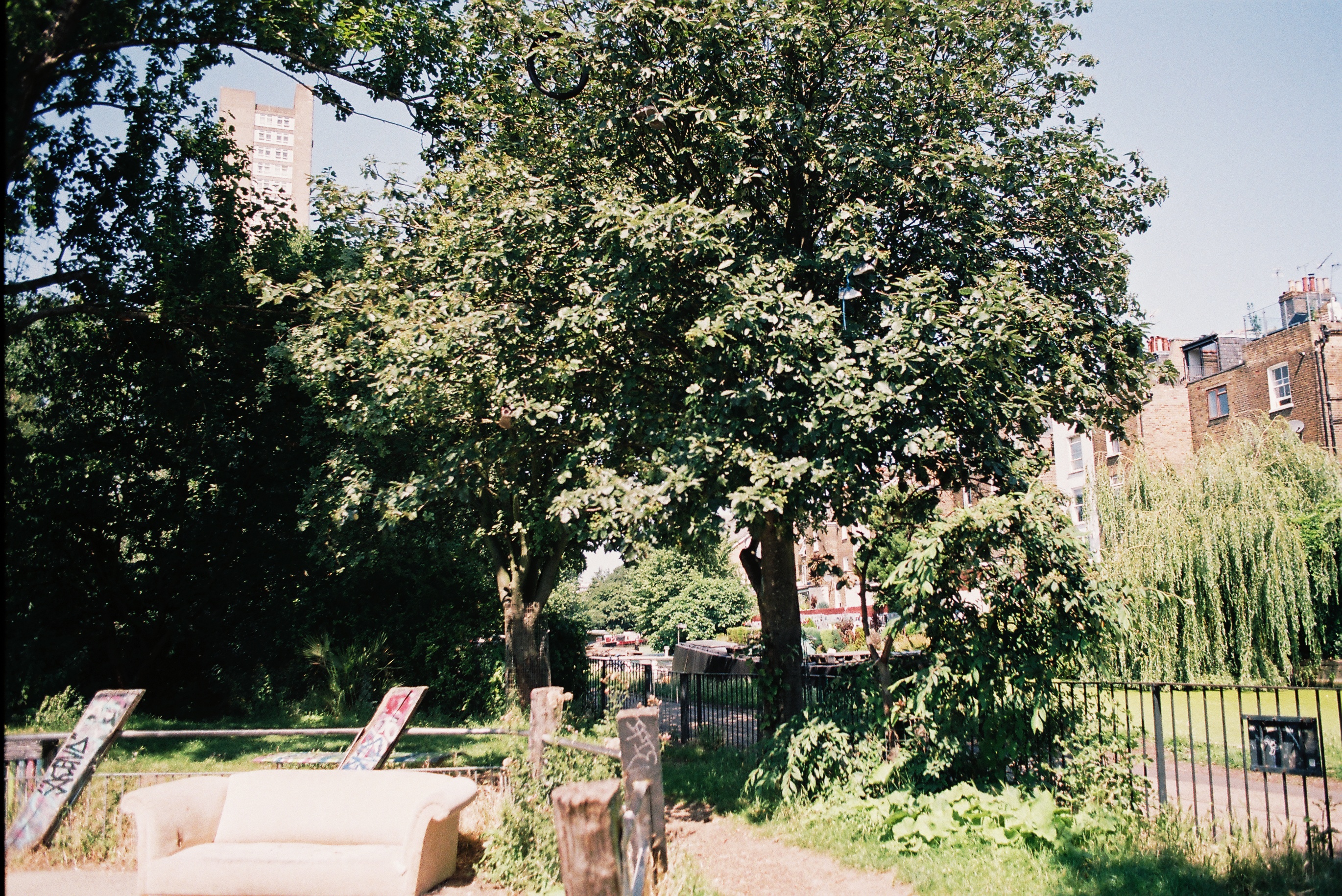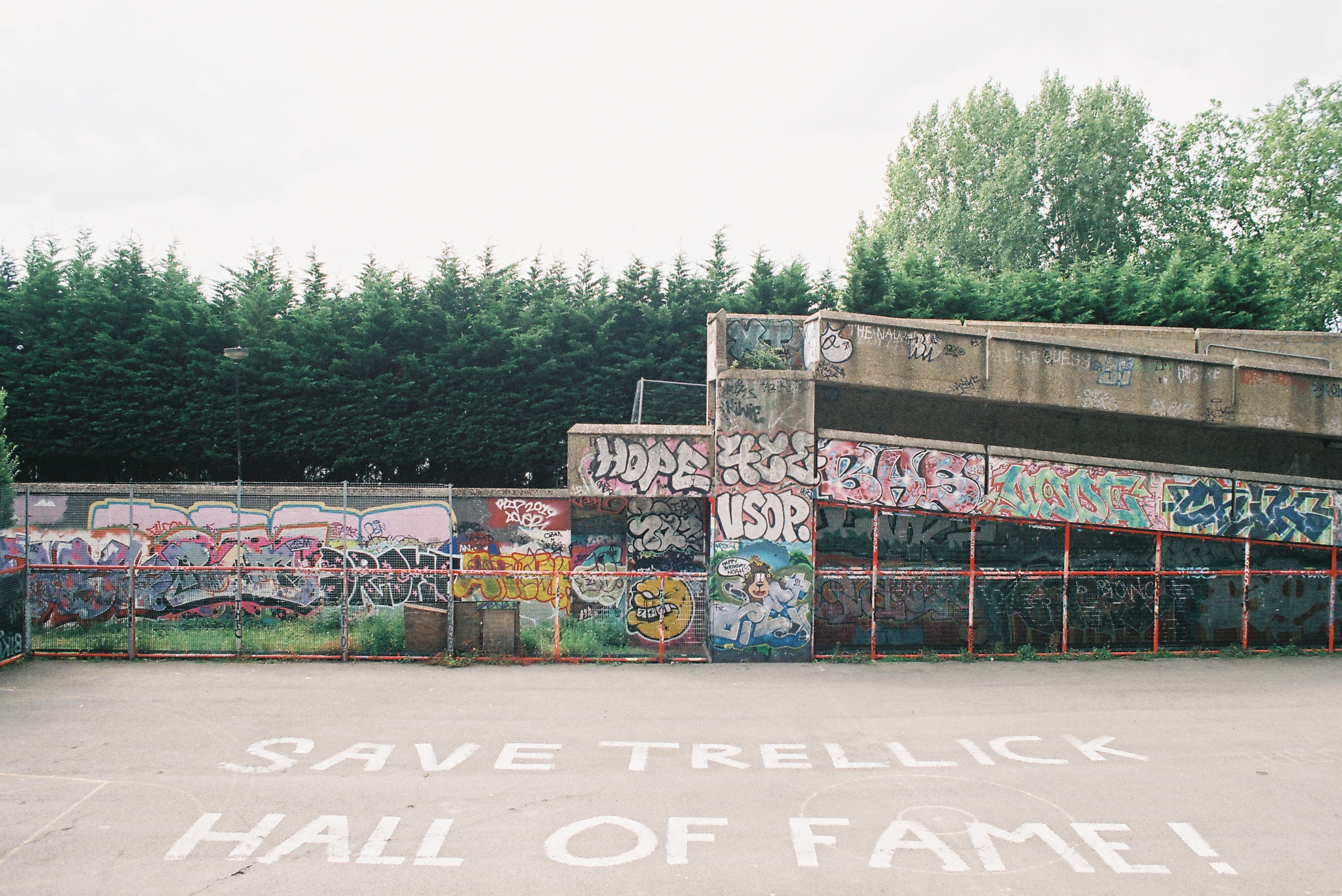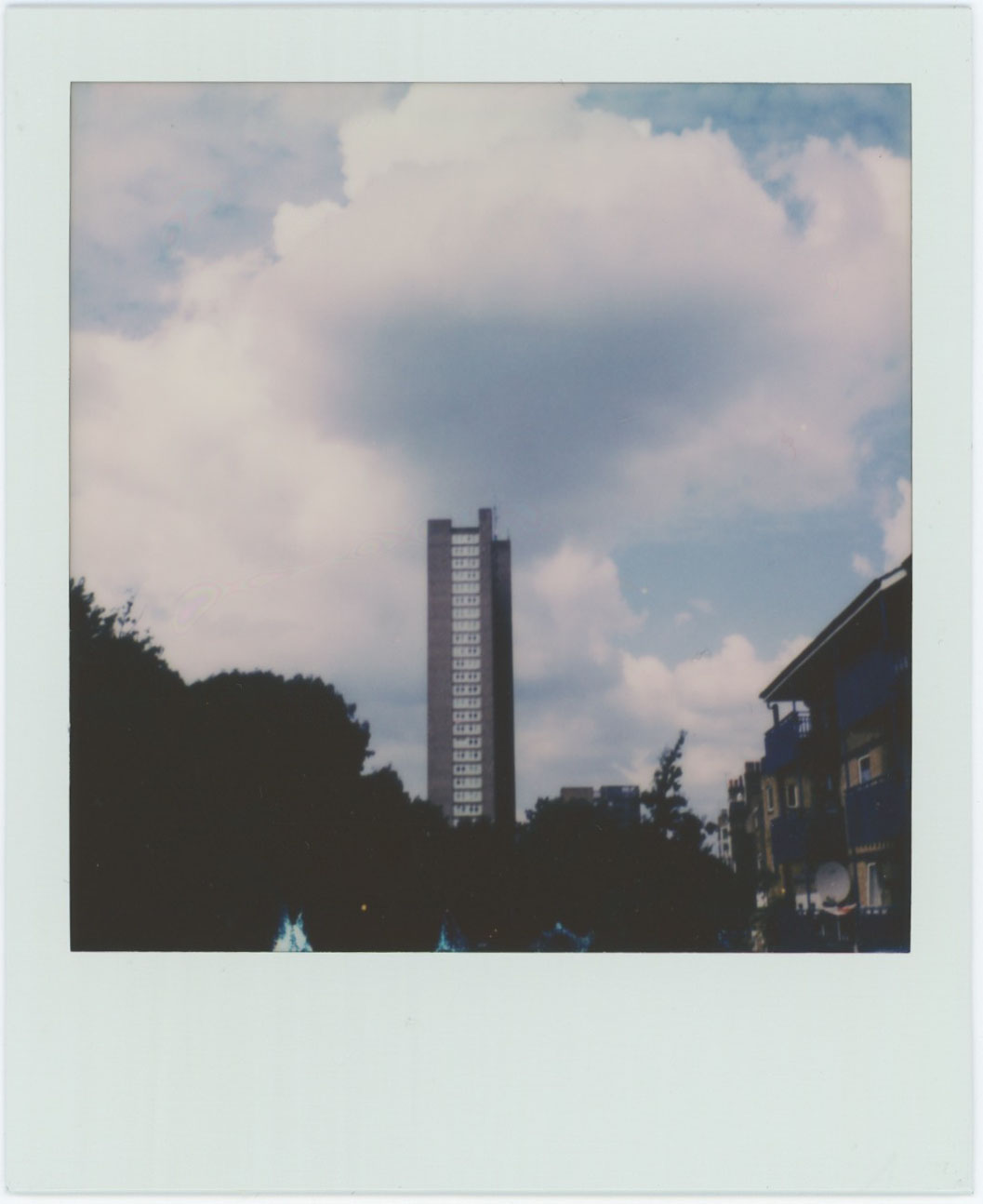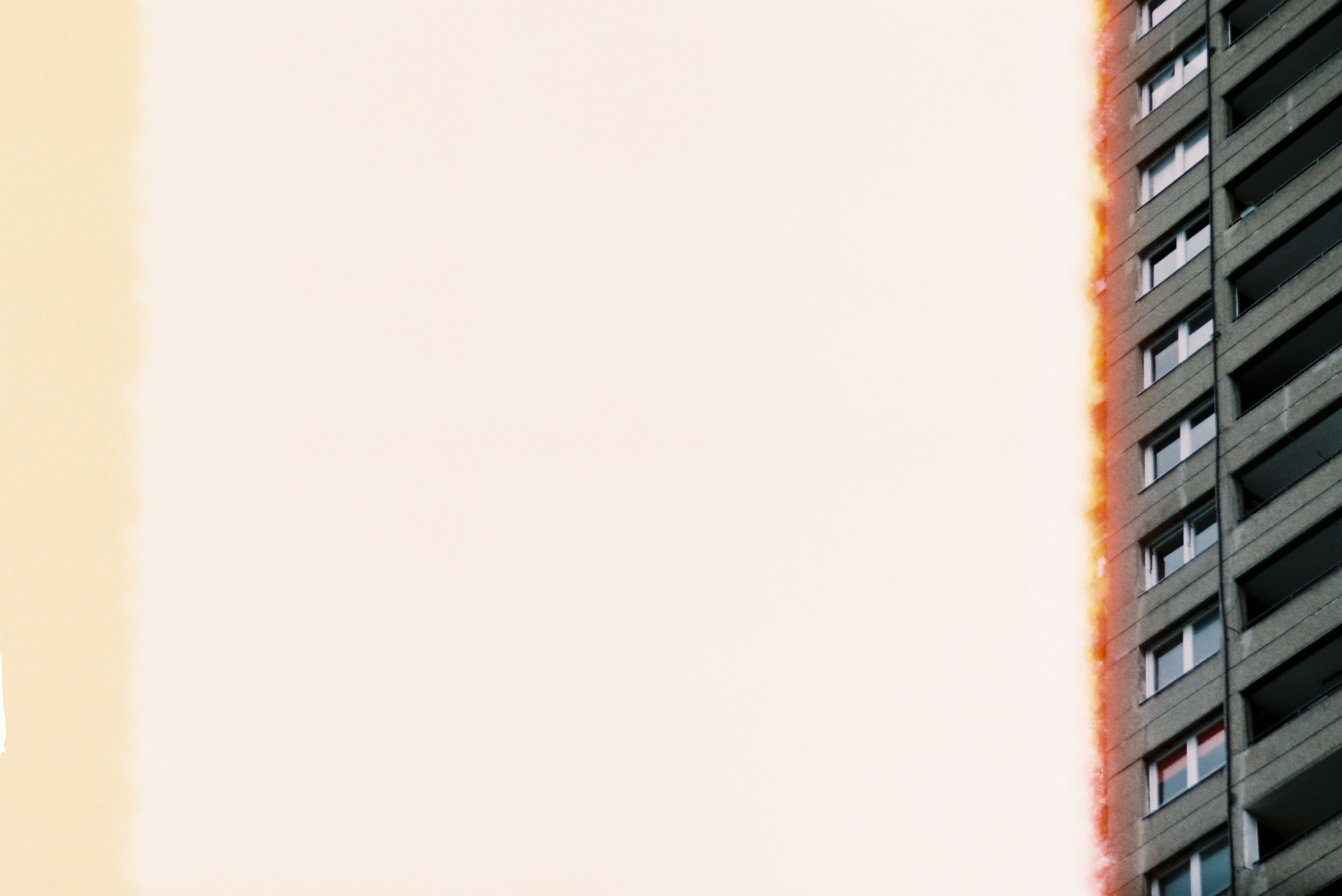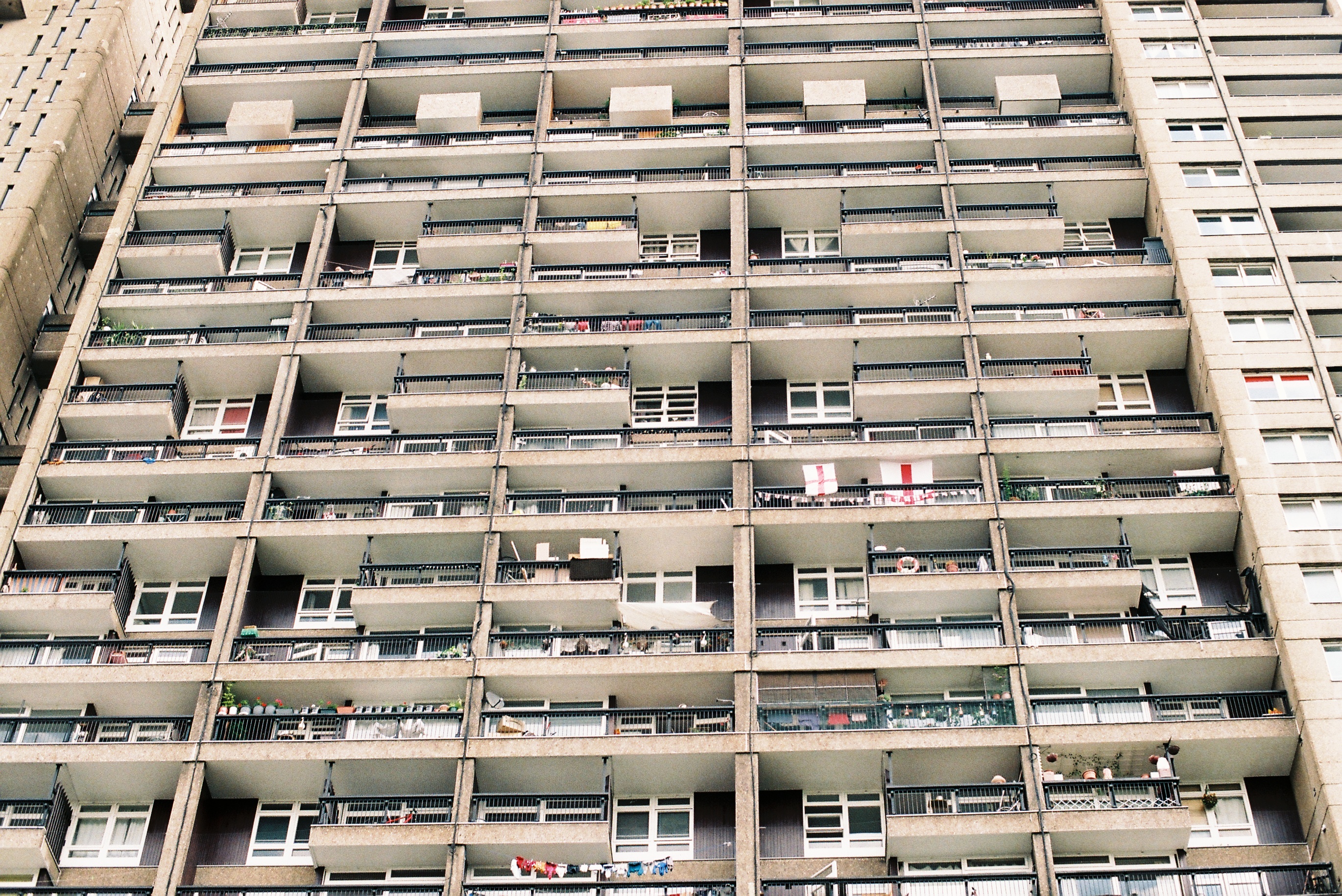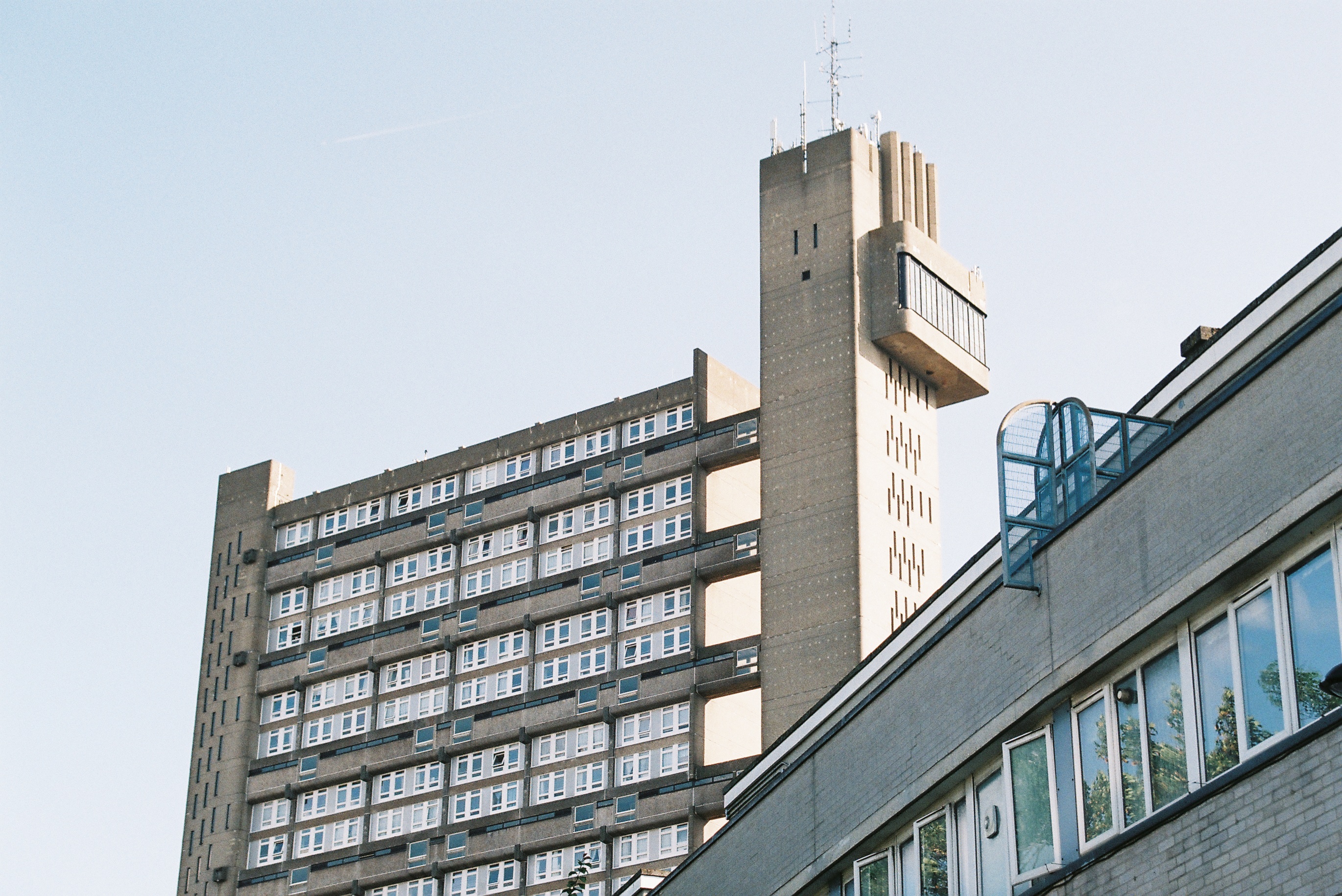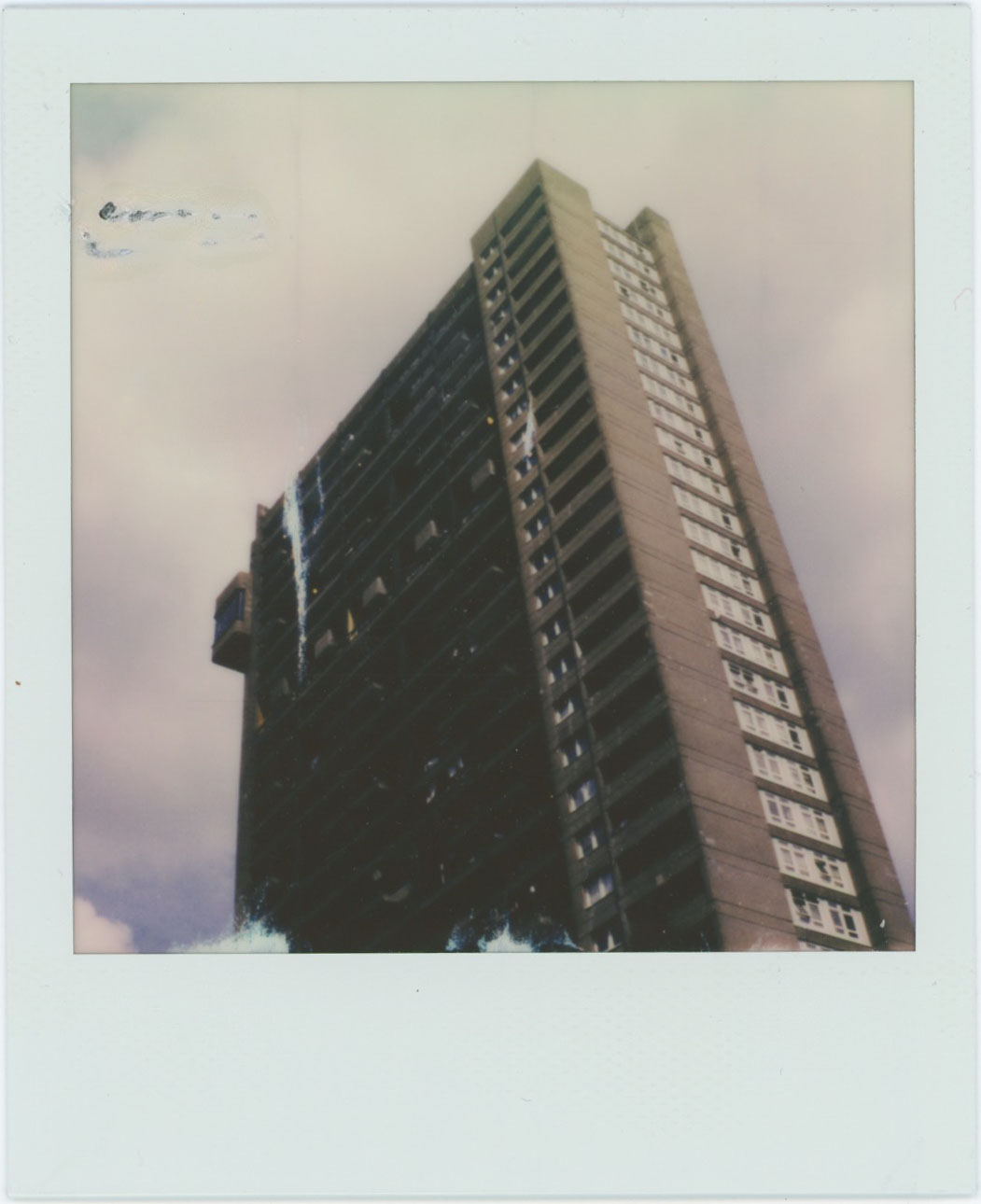 I've always thought of Trellick Tower as a de facto manifestation of urban verticality. That is to say, I've always thought of Trellick Tower as the tower block that rules over all tower blocks. Familiarising myself with the tower block for the purposes of my visual and textual essays, saw me make several visits to the Golborne Road on foot as well as on bicycle. Surveying the area from the ground up, I dipped in and out of Trellick Tower's shadow and gazed up to it from different angles and locations. These visits took place between 22/07/2021 - 22/08/2021, which led me to initiate a visual dialogue with the tower block itself, via my use of 35mm SLR and SX-70 polaroid cameras.

Gazing up to Trellick Towers lofty heights remains to be one of my earliest memories of traversing West London as a titter-tottering toddler attending Notting Hill Carnival with my family and friends. Long before I had become aware of its inceptions as an iconographic monolith of architectural brutalism and vertical urbanism, the tower had captivated me. This was simply because it forced me to look up, which drew me towards its heights. However, coming to age I began to hear of all the horror, demonising stories and events that took place in its stairwells, walkways and shadows casted over Golborn Road. Yet I still believed that there was more nuance to its stigmatised representations and culturally uses as an urban backdrop, that others simply did not understand.

Every time I look up to Trellick's concrete windows, it's fly by pigeons, surrounding clouds and skies I am grounded. This grounding prompts me to stand tall despite any and all adversities, sometimes I felt as though it was literally telling me to weather the storms and madness afflicting the areas the tower watches over. Hailing from Northwest London, anytime I head down the harrow road or in the general direction of West London, it becomes fairly difficult to escape Trellick Tower's vantage point views. Whether you are cycling down the Grand Union Canal or driving over the Westway flyover, it is there presiding over both West and parts of Northwest London.

To gain a couple West London based insights around Trellick Tower, I reached out to twin brothers Slim and Crizzy, who live on the White City Estate and are currently collaborating with me on my Practice-related PhD. Akin to my experiences which are situated twenty minutes up the road in Stonebridge, Slim and Crizzy have grown up within the views of Trellick Tower. The dialogue below has been edited in for the purposes of this textual essay:

Nathaniel: Can you share a few words with me on the relevance of Trellick Tower in West London?

Crizzy: Trellick Tower is like the statue of liberty of West London. It's proper symbolic and it can basically be how you know you're in West London at any point and time. It's also one of the tallest, if not the tallest tower blocks in our area.

Slim: For real. It's a proper staple of Endz. Its kind of like a beacon to, you know? Because it's the first thing you see driving into West.Of course it hasn't always been there, but it kinda seems like it always has, because it's the only kind of building that has that status around Golborn road.

Nathaniel: Have either of you ever been up to it's the 31st floor? Or even inside of it at all?

Crizzy: I have once upon a time in the 90s and it was wild back then! Plus, I'm not going to lie I don't like heights like that, I have some stories I could share, but let's leave that for another time. All you need to know is that it used to be a wild place, but at the same time the community there is tightly knit.

Slim: I've been up there and know one or two people who actually live in there. The views it gives you of endz are dope, especially around carnival time.

Nathaniel: Can you share a few thoughts on what you think tower blocks represent to you?

Crizzy: Tower Blocks like Trellick Tower for me, represents the grind and hustle of this city. It's people's day to day life that they really show you know? It's like they're something you're used to seeing on the ground, but when you're in one yourself your views change because you see things from a different height. I'm not sure if that's always a good thing or bad thing to be honest. But I respect it.

Slim: Tower Blocks are cool in a way because sometimes you get this combination of people from different walks of life, and it ain't like the general mix you see across different parts of London, because these people live together and support each other. It's like that old sense of community some areas simply have, and others don't have. I think you can find that in Tower Blocks sometimes.

The twin brothers' reflections on Trellick Tower and other tower blocks, resonate with some of my own thoughts and observations. Trellick Tower's presence on the skyline can be observed to be nostalgic in some ways as its literally cemented into our memories and the geographic site itself. However, looking towards its future, its key to note that the Towers local greenspace, football/basketball and legendary graffiti "hall of fame" are at risk of being erased by proposals for a new housing development. Whilst the tower continues to be featured in pop cultural representations such as music videos and TV advertisements, its immediate geographies are undergoing processes of urban change. By making photographs with the tower which have initiated a visual dialogue, I hope these photographs and the reflections myself and my peers Slim and Crizzy have shared are capable of offering up insights on localised notions of urban verticality.

Finally, the Trellick Tower can be observed to be a neighbourhood figure that has always stood tall and inspired those who have looked up to it. Perhaps it has provided its onlookers with a sense of security and belonging. Or dare I say, perhaps it has been an inconvenient eyesore for some. Whatever opinions we take up towards the tower block, Trellick Tower refuses to be ignored. It is a tower block that continues to exist throughout the seasons, years, todays, yesterdays and hopefully in tomorrows of West London. It is a tower block I hope to continue to engage with in photography, writing and in quotidian life for many years to come!

© 2018 PESOVISUAL LONDON, U.K.//© 2018 PESOLIFE//All Rights Reserved.//"IN PESOLIFE WE TRUST"